Code Name Verity by Elizabeth Wein is a historical novel set in WW2. I recently reread this book, and it was as heart wrenching as I remember. A tale of friendship and tough situations that I recommend you all read.
I have two weeks. You'll shoot me at the end no matter what I do.
That's what you do to enemy agents. It's what we do to enemy agents. But I look at all the dark and twisted roads ahead and cooperation is the easy way out. Possibly the only way out for a girl caught red-handed doing dirty work like mine – and I will do anything, anything to avoid SS-Hauptsturmführer von Linden interrogating me again.
He has said that I can have as much paper as I need. All I have to do is cough up everything I can remember about the British War Effort. And I'm going to. But the story of how I came to be here starts with my friend Maddie. She is the pilot who flew me into France – an Allied Invasion of Two.
We are a sensational team.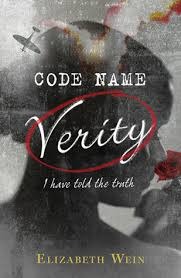 This cover is one of the most common and I like it, especially the "I have told the truth," and the details of the plane and explosion in the background. I also think that the overlapping effect is really cool. However this cover makes more sense once you have finished reading the book and doesn't really draw me in.
This is also a pretty common cover and (don't hate me) I kind of don't like it. It doesn't really link to the story or show that it's a war novel. It's kind of boring and doesn't draw me in.
I actually love this cover. It clearly links to a scene in the story, although the reader doesn't know that until pat way through. However the planes flying overhead does make you think it's a war novel. I like how this cover focuses more on the strong friendship in the novel than some of the others do.
This is another english cover, and it's actually one I had never seen before. I don't particularly like it. The face seems pretty typical of a ya novel and nothing on the cover really tells me anything about the plot.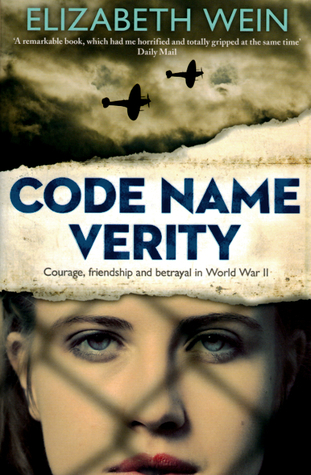 This is the cover that the version of the book that I read had. I personally quite like it, however I think it's a newer version considering the book is a few years old. I like that with most of these covers you can almost instantly tell that it's a war novel.
When I first saw this cover I thought it was a fan edit because all that's really happened is the colour scheme has been shifted, but apparently it's not. This version takes away everything I liked about the one before it. The bright colours and showy font are totally uncalled for. I admit that the sky looks nice, and being able to see the face more clearly is cool, but still… this is a war novel… I don't want it to appear super uplifting.
This is the French cover, and it's also pretty similar to the ones next to it (which is why I put them together). It maintains the things I liked about the first one on the left, the torn paper effect behind the title and the realistic and harsh nature of the cover. One key difference is that the shadow of the chain link fence is gone. To start with I didn't like it, and then I kind of did. I don't think it's an improvement, but it's not any worse.
The Spanish cover also has a face on it. This cover is pretty similar to the others in this row despite not sharing the exact same pictures, the elements are very similar. The girl on this cover seems a bit softer and not quite as tough and affected by war, but I do really like the hand signed nature of the name on this cover.
I have mixed thoughts on the Czech cover. I like the face, it looks like a realistic face. However I am not quite sure as to my thoughts on that red bloodstain (is that what it is?) that's under the title. I do like the font though.
This is the Swedish cover, and I really like it. The girls on the cover really look like WW2 women and  I like the planes in the background. I think this might actually be my favorite cover.
The Dutch cover has a lot of planes, I like them but it's kind of boring.
The Hebrew cover also has the ripped paper effect and I also like the image of hand writing. This cover is not as interesting as some of the others but I like how it relates to some of the others.
40% – Once again I am loving this book. The voices are so unique and the format so interesting. Plus I have half forgotten what happens so it's like reading it for the first time again.
70% – I am loving this… but I know how it is going to end.
This was a great book to reread. I picked up on so many things that I barely noticed the first time around. I just love how the story is told and how well developed the characters are. WW2 is a time period that I really enjoy reading books about so this was a lot of fun. There's not super a lot I can say without spoiling some aspect of the book but it's just so good. There are quite a few amazing plot twists and little details that you pick up on as you read.
I highly recommend reading this book if you enjoy books that are kind of thrillers but not of the spooky kind, or books about WW2
The WW2 aspects
The strong female friendship
The characters which were so strongly developed
All the twists and turns of the plot
So many little hints that you finally pull together at the end
The cute and nice bits
The harsh reality of war
Nothing
This story is amazing
Well I guess maybe that it wasn't longer?
I also just wanted to quickly say a few words about the other books set in the same world. Rose Under Fire is sort of a sequel to this novel, but it can be read completely on its own too. This sequel deals with different aspects of the war and is a different style of novel. I know some people think it lacks the gripping plot that is so attractive in Code Name Verity but personally I found Rose Under Fire to be more hard hitting and equally as good of a novel. It isn't quite as clever in terms of plot twists, but it's still a great depiction of WW2, so if you have enjoyed Code Name Verity I would recommend checking it out too.
The Pearl Thief is a prequel to Code Name Verity that came out recently. I haven't read it yet but I can't wait to get my hands on it. I have heard from some reviews that it is also a very different type of story, and considering that it takes place before the war starts it will be a very different experience. However I love Elizabeth Wein's writing and her characters so I think it will still be good. If you've read it I would be interested to hear your thoughts.
What were your thoughts on Code Name Verity?