When I was looking through my 2017 reading statistics I found that there were quite a few books I had never actually reviewed. I didn't want to do full reviews on some of those books because I read them quite a while ago and they're not uncommonly talked about books. I did still want to give my thoughts on them, hence the mini review.
Today's Mini Reviews
Flame in the Mist
The Crown's Game
Crooked Kingdom
Flame in the Mist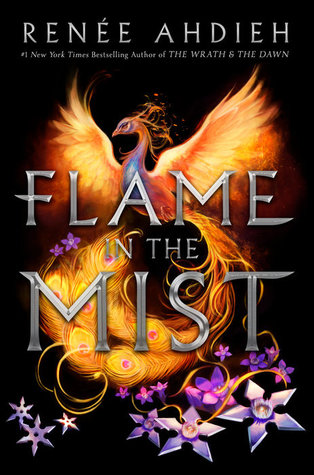 Mariko is intelligent but restricted due to gender roles in her society. While travelling to meet her betrothed she is intercepted, and becomes the lone survivor of the attack. Instead of racing off to get help Mariko decides to take matters into her own hands and infiltrate the attackers to teach them a lesson.
This book is set in a pseudo Japanese society with a magic system that is never really explained or constrained by any rules. I can understand why someone called it a Mulan retelling because it shares some common themes. The cover is beautiful.
The romance was actually cute, and I was honestly a bit surprised by who the love interest ended up being, I was expecting it to be the other guy
I liked Mariko's relationships with the two or three people she befriended
There was one specific scene in the middle of the book that was amazing! If you've read this book it's the one where Mariko is sneaking around that tea place in town
Towards the end the book really picked up, I think the author is good at endings and cliff hangings because now that I've read The Wrath and The Dawn I can see the similarities
Mariko's motivation, goal and the overall plot direction of this book were super vague for all but the last 5% of the book which didn't work for me
It was so slow moving
The author spent ages getting you to understand certain characters which would have been good if I cared for them but I didn't
I didn't like the main character, she just seemed so… ahhh
There were a lot of POVs, some of which weren't relevant to the plot of this book and will only become relevant in the sequel
This book felt like a set up for the next one, it didn't stand on it's own well, and considering I don't really plan to read the next one (because I don't remember what happened in this one) I am left disappointed
I can't deal with magic systems that don't have rules
I don't think Renee Ahdieh's writing works for me, having now read The Wrath and the Dawn which I also found quite low I think this may be true
The Crown's Game
A competition to be the royal enchanter that the looser pays with their life set in historical Russia. Hidden identities, grand displays of magic, and lots of food.
Vika: hot headed, forceful, showey, and with no knowledge of how the game works
Nikolai: clever, calculating, subtle, and privy to intimate knowledge about the royal family and the game
They're trying to kill each other, but they're also the only people in the country who can understand each other.
The historical fantasy setting was really cool, I love history / alternate history novels so this was right up my alley
The setting was so vivid and well described
The world building made sense
The displays of magic were so amazing and wonderful
The characters were well developed, I understood their motivations and they underwent some interesting character development
I loved the competition aspect of this novel
Highlight to see spoiler (

this book didn't rip you off, it promised a death and a death was what we got…kind of… well it was better than no one coming even close to death

)
As much as I liked the characters I struggled to connect to them
There were a few parts of the plot that made me roll my eyes and were clearly just thrown in to cause more conflict, not that they didn't tug at my heartstrings, they just felt too convenient
Crooked Kingdom
(note, there will be some slight spoilers in this section for Six of Crows so if you want to know absolutely nothing going in skip down to the comments to let me know what you thought of the other two books)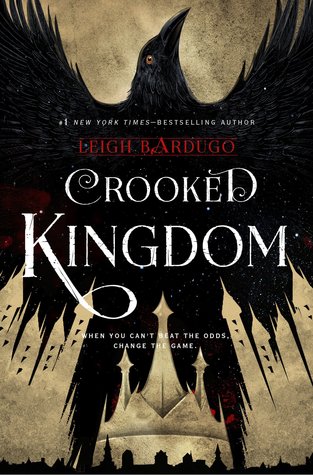 What do you do after the heist? Well just because the heist is finished, doesn't mean justice has been served. There are rival crime lords still at large, money to be obtained and spent, and missing individuals to be dealt with.
If you've read this first book in this duology all you need to know is that this book continues in the amazing tales of our favorite crime gang, and there are also a few recurring faces from Leigh Bardugo's Grisha series.
This book managed to become so much bigger than Six of Crows which I was scared it wouldn't be able to pull off
The plot was so high stakes and the plot twists were amazing (I kind of want to reread the duology just from writing this review)
I was glad there was some cross over between characters in the Grisha trilogy and this duology. It was great to see them again, and it made reading that trilogy so much more worth it
It was so fast paced and I was already very emotionally invested so this book kept my interest the whole time
The characters felt a lot more vulnerable in this book, and they struggled with some flaws that made me only love them more.
The character development was amazing
The characters actually had to deal with what happened last book? The massive sacrifices they had to make weren't suddenly no problem and major changes to their world view continued to challenge them
We got to see more of the pasts of the other characters!
There were interactions between characters who hadn't had really talked in the first book and they were just as funny and wonderful as I wanted them to be
The ending wasn't perfect, but it was realistic
Kuwei was kind of pushed to the side… he got basically 0 character development and I am sad he was never a bigger part of what was going on
I did want a bit more closure from the ending, but there's the other trilogy to look forward to so hopefully we'll get a peek at what's going on with our crime gang
Highlight to see spoiler (

the death that happened felt so cheap… I know it would have been unrealistic to have no death but couldn't he have actually died in a fight?? I understand the emotional impact of thinking they've gotten away with everything but then they haven't really but I still wish it was a bit more relevant

)
what did you think of these three books? do you share my opinion or not?