I've read a bunch of books in 2017, I'm currently at 93 aiming for 100 by the end of the year. A few of those have been novellas and short middle grade books but I've still read quite a few full length novels which gives me a massive selection for this list.
These aren't all going to be books released in 2017 because I don't think I've even read 10 of those* but instead this list is going to be the top books I've read this year. I know I'm not going to be able to find a perfect 10 books, either I will have far too many or not enough of the TOP tier quality I am looking for. But what can you do? I'll try my best.
*I went back and checked and actually I've read 11 books published in 2017, however only one of them was a five star read for me, three were three stars and the others were four stars. I think two of them have made their way onto this top ten list.
ALSO: this is my first time writing a blog post in quite a while. I pre wrote a bunch before nanowrimo (which I had to give up on) and I also pre wrote enough to cover me until after my exams (which finished on Friday) so now I am going to be jumping back on the blogging train and actually replying to comments and visiting people's blogs.
1st Place
The Raven King; 4th and final book in The Raven Cycle by Maggie Stiefvater
I read the last two books in this series this year and it has entered the haloed GOD tier of books. When people ask me for my favorite book/series, I so often mention this one, partly because my actual all time favorite series is so obscure (The Obernewtyn Chronicles by Isobelle Carmody) but this series is a close second.
The characters grow so much throughout the series, the writing is amazing, and this ending left me with the perfect combination of hope for what's to come for our characters and disappointment at my own unexciting life. Finishing this book made me want to be a better person and live a better life, and considering it had that impact on me this book has to take the position as my best book of the year.
It wasn't without it's flaws, I felt like the ending was too abrupt and I'm very annoyed that there wasn't just MORE of the amazingness, but this series is without a doubt one I will be rereading for decades to come. I have reviews of The Raven Boys, The Dream Thieves and Blue Lily, Lily Blue, and I should have a review of The Raven King up soon but I've been a bit off my game with reviews recently.
2nd Place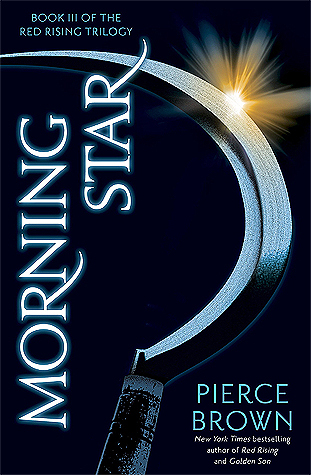 Morning Star; 3rd and final book in the Red Rising trilogy by Pierce Brown
I read this book right back in January and it was an amazing way to start off the year. This book was cleverer than I expected it to be, and the first two books in the trilogy were pretty damn clever. There were so many plot twists and little details that became important later which is my favorite thing in books.
This series is far more about plot than it is about character which prevented me from connecting to it on quite the same level as The Raven Cycle, but what an amazing plot it was. I am in awe of how clever it was, how well it wrapped up, and how well it kept my attention. I definitely plan to reread this whole series soon.
If you're interested in hearing more of my thoughts on the Red Rising trilogy I have reviews on my blog Red Rising, Golden Son and Morning Star.
3rd Place
Simon vs. the Homo Sapiens Agenda by Becky Albertalli
This book was adorable. I read it so quickly (12 hours) and I couldn't put it down. I loved the mystery aspect to the plot. I was trying to figure out who Blue was the whole time, even when I wasn't actively reading this book.
Most of all I loved the characters. Both Simon's family and his friends were so well developed. The whole cast of this book felt real and that was definitely one of the strengths of this book, it felt like it could have been happening at my school. It was just that well written.
I recommend this book to genuinely everyone, and I am so happy that it's being made into a movie so people outside of the book community get a chance to experience how great it is. I have a review of Simon vs. the Homo Sapiens Agenda if you're interested in hearing my further thoughts.
4th Place
Crooked Kingdom; 2nd and final book in the Six of Crows duology by Leigh Bardugo
I read both Six of Crows and Crooked Kingdom this year, and while I loved both of them I found myself enjoying Crooked Kingdom more. I think this was partly due to how much higher the stakes were and the lack of guidance for the plot in the sequel compared to in the first book where you kind of knew what was going to happen. Heist –> escape. It was also partly due to my crazily high expectations for Six of Crows
One of my friends has been trying to get me to read Six of Crows since it first came out, and I've heard a heap of chatter in the book world about it so I expected amazing things. Books are never quite what you expect. So when I read the first book in August this year I was mildly disappointed that I wasn't as obsessed as I expected to be.
I liked how much more vulnerable the characters were in this book, and I liked all the nods back to the previous trilogy (which I did take the time to read before getting to Six of Crows). I really enjoyed the scenes of bantering and the interactions between characters who hadn't really chatted one on one before. I have a review of Six of Crows if you want to hear more of my thoughts on the duology.
5th Place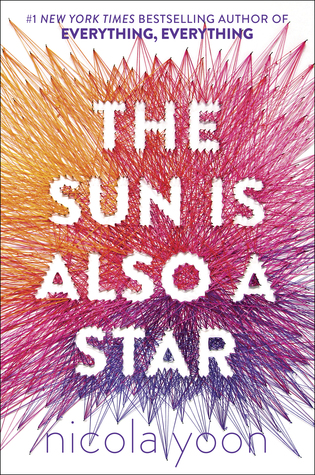 The Sun is Also A Star by Nicola Yoon
This book was there for me at exactly the time I needed it. It encompasses a lot of my opinions of love and relationships. I loved the writing style and the whole message of the book. I know some people say this book is to insta-lovey but I think that's a part of the point of the book.
This book made be believe in love in a time when I was questioning its existence, then smashed that belief into a thousand tiny pieces. I just don't really know what to say, I just loved this book so much. I really needed to read something cute and hopeful and this was that book for me.
6th Place
The Hate U Give by Angie Thomas
This book was so important, and the characters were so amazing. I found it really easy to get into, it made a lot of references to pop culture type things and Angie Thomas really captured the personality of the teenagers. The family relationships were also great, I loved Starr's parents and the relationship she had with them. This book tackled a lot of issues that really needed to be discussed and I know a few people who don't usually read who were convinced to pick up this book and I think that's the mark of a really good book.
The only reason this book wasn't higher up on this list was because it didn't really speak to me. I did still really enjoy it, but I know to some people this book was off the charts amazing and to me it wasn't quite there. I don't know whether that's maybe because I'm from Australia not America so the issues this book touched on weren't quite as relevant to me and I couldn't quite relate to the events.
7th Place
Wool; 1st book in the Silo trilogy by Hugh Howey
I really enjoyed this book. It was interesting to read something that wasn't YA. The plot twists shook me to my core, they were so amazing. I really enjoyed piecing together the little bits of information that different characters knew so that I could get a whole picture of what was going on. I loved the world building of this book, and I enjoyed how specifically relevant it was to our current world situation. I think this is a great book for anyone who likes dystopian novels along with YA readers who are looking to branch out into adult novels.
8th Place
Blood For Blood; 2nd and final book in the Wolf by Wolf duology by Ryan Graudin
This book was really different to the first book in the duology. The character development felt realistic even thought I didn't like it, and it was interesting to have a more personal focus in this book than the primarily plot driven story we got last time. I did feel like this plot was lacking, but the book packed such an emotional punch there was no way I could be mad.
9th Place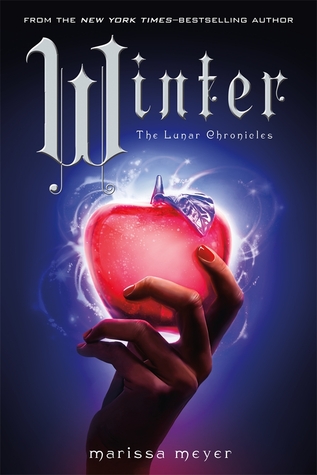 Winter; 4th and final book in the Lunar Chronicles by Marissa Meyer
I loved how well this book wrapped everything up. It was such a satisfying conclusion to the series that didn't feel too easily accomplished. The character dynamics were amazing and it was good to see interactions between some characters I hadn't seen chat before. I have reviews of all the books in this series, Cinder, Scarlet, Cress and Winter if you're interested.
10th Place
Song of the Current by Sarah Tolcser
This book was really different to anything else I'd read and I'm kind of dissapointed I haven't heard more people talking about it. It was released this year as a debut novel and it's about pirates and boating. I really think more people should read this book.
Some of the world building was unexplained, but it was never confusing. I am looking forward to reading the sequel next year. The character development was pretty amazing. Both of the main characters grew and evolved over the book in what felt like a really natural way. I also felt like the relationships that developed were good and healthy and that was adorable to see.
Short Listed:
The God of Small Things by Arundhati Roy
Tower of Dawn by Sarah J Maas
The Testing by Joelle Charbonneau
what books made your top ten for the year?