The theme for Top Ten Tuesday this weeks is TV so I have decided to share with you the TV shows I just can't stop watching. Top Ten Tuesday is a weekly group hosted by The Broke and The Bookish. Now I watch a lot of TV, but my list of shows to watch is even longer (its the same with books) so if you ever need recommendations then know I have many for TV shows as well as books. I mainly watch comedies and dramas, so I will be recommending five of each.
Community
Community is one of the first TV shows that I watched and I will forever love it, I mean works can't quite explain how much I care for this show.
It is about a group of community collage students that face many problems and have many adventures. I love all of the characters, but most of all I relate to Annie who grows so much throughout the series.
Although there are times when I relate to Britta especially at the start of the show where she keeps trying to take care of everyone else.
And I think at some point in our lives all of us are Troy. He is pretty clueless and still figuring life out, but sometimes he is the one with the most profound thoughts.
Abed has a special place in my life due to his general weirdness. However deep down he is so pure and innocent, and he just wants to make people happy. He lives in his own little world and if what makes this show so unique, often sparking weird plot lines.
Shirley never fails to make me laugh and provides a nice contrast to the other characters which are pretty self absorbed and are younger with many opportunities before them.
And Jeff, oh my gosh he is like the uncaring person that I relate to but I hope I never fully become. His spiraling emotional problems usually spur plots but he develops a lot through the show.
But the characters I love the most are Chang and the Dean who I think are the real drive between the series.
Basically, Community never fails to make me smile, and provides an awesome comedy about people and their lives. Now as I'm sure you are all thinking:
To which I say, yes I will soon. But because I am a book blog, I thought I would try to find a way to link this to books. So I am going to recommend books for fans of each of the shows, or vice versa. If you like these books then you should for sure check out the show. My recommendations for Community are:
I know I know, so I'll move quickly onto the next show and hope that it doesn't take up as many gifs as this one.
Parks and Recreation
Parks and Rec is another comedy that I loved to watch. It is about the parks and recreation department of a city government that is slightly insane. This show really grow on you the more you watch it, and it kind of addictive.
It features as easily distracted go getter called Leslie Knope who is very easily distracted. Along with an assortment of coworkers who each have something to add to the show.
There are more characters, but I want to keep it brief and only feature my favs. It provides some really good lessons on friendship and growing as a person. Although it still does manage to provide many laughs. This is Chris, the character I like the best who has an amazing character development.
See, that was much quicker. I am trying to only use gifs that I already have on my computer. My recommendations for Parks and Recreation are
Brooklyn Nine Nine
This is another comedy that takes place in a Brooklyn police department. It is made for the laughs and I can admire that. I love Amy Santiago, who is the one uptight character among a lot of characters who love to wind her up.She is also highly competitive. I really relate to that.
My recommendations for fans of Brooklyn Nine Nine are
Unbreakable Kimmy Schmidt
This show does have limited plot, but it is amazing if you need a little pick me up. It's so sweet and just gives me so many happy feelings. I watched all of this show really quickly and I have kind of unconventional opinions on it.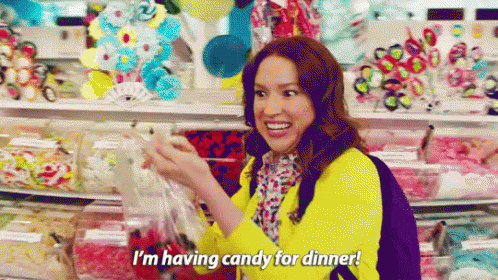 The character I love the best is Jacqueline Voorhes, a rich mother who has no idea how to live like a normal person.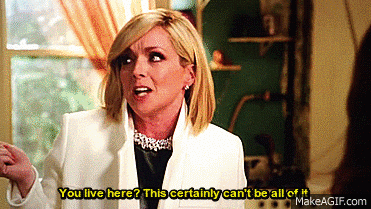 If you love Unbreakable Kimmy Schmidt then be sure to check out
Silicon Valley
This is the last of my comedy shows which is about a guy called Richard who is trying to get his app off the ground in Silicon Valley. He is a mess. Most of the characters in this show are in some way or another.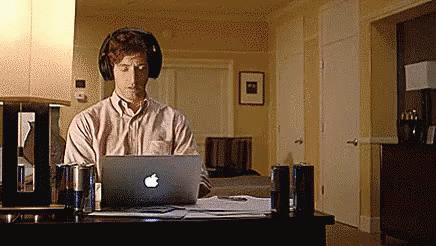 I really love Jared, who it has been hinted has quite a dark past.
Books that have the same feel to Silicon Valley are
Scream Queens
Now onto the first drama on my list, all of which I will try not give spoilers for. Scream Queens is about a group of sorority girls trying to escape a serial killer.
Meet Channel: the character that you loved to hate.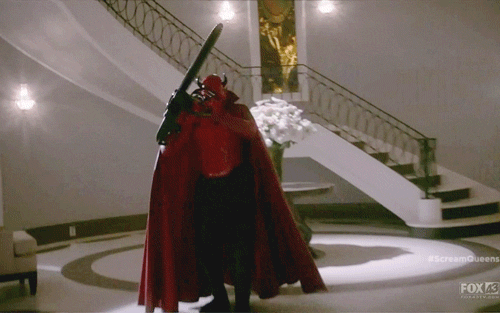 And the red devil killer, the one committing the murders. They're pretty messy. Overall this series doesn't really have too much gore or spook factor, it is just a nice murder mystery… or is it? It really depends on personal opinion.
It's quite a scream fest.
My book recommendations for Scream Queens are
Doctor Who
Ok this one is going to be a long one… I have many Doctor Who gifs. Doctor Who is so important to me and honestly if you haven't watched it yet if you like fantasy and sci-fi then what are you doing?
Doctor Who has been going on for fifty years for goodness sake. Although if you aren't up for watching all that then start at the reboot which only means you have nine seasons to catch up on. I have watched all of the reboot and some of the older series which I will end up watching eventually.
The main character is called the Doctor, and he is an Alien who can regenerate into a different person, allowing the show to keep going and change its main character. The common pick for best actor to play the Doctor is David Tennant.
However my personal fav Doctor is Peter Capaldi, the most recent. I loved how his take is so much more mature and grumpy although he is still able to have fun. He is also Scottish, which might help you to get the feel for his lines if you haven't seen the show.
The Doctor usually has a companion with him as someone we can relate to. Some of these are official and stick with him for a whole season, where as others are only there for an episode. All of them are amazing and really strong characters.
The plots vary. They usually revolve around aliens and planets that need saving, however sometimes they seem much more trivial. Some of the episodes take past in the future, some in the past, and some in the present day.
There are a heap of typical sci-fi details like aliens, technology and weapons.
This is basically a show where anything goes… The gross, the odd and the out of context.
And despite the show being old and changing so much, it still stays true to it's roots. There is a whole lot of shouting, but it all works out in the end.
It is after all, a show all about friendship and discovering yourself, and is just really cute.
If you enjoy watching Doctor Who then pick up
Merlin
Merlin is so cute, and a really good historical type show. I can't bring myself to finish the last series… but I loved all the rest that I have watched. It is based on the King Arthur myth and follows Merlin as he tries to keep Arthur safe from harm.
For fans of Merlin, try reading
Super Girl
This is a kind of new show and I haven't watched all of it, but I really enjoyed it. It is about Kara, who is the cousin of super man and is trying to claim her place in the world of super heros.
My book recommendations for Super Girl are
(Hopefully those two short ones make up for the length of my Doctor Who rant)
iZombie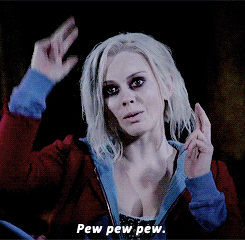 iZombie is one of my new fav shows. I love this show because although it is a drama and there is a new mystery every episode and an ongoing series plot, there is also a focus on making the show funny and entertaining. I feel like the producers of this show have a heap of fun.
The basis of this show is a zombie who doesn't want to eat brains but has to, so works at a morgue. Whenever she eats the brains she gains the skills and memories of the 'donor' which helps her to solve their murders.
There's also a bunch of other characters who have interesting problems of their own.
My recommendations for fans of iZombie are
I had a heap of fun doing this, I think this is one of my longest posts. I would love to chat to you about any of these shows in the comments, and if you have any recommendations for them please let me know. Would you be interested in seeing more posts like this? Because I have a few ideas for similar ones.